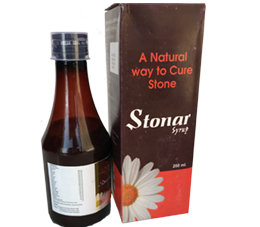 Stonar
Promoted By : Rithviks India
Contains : Ayurvedic Alkalizer Syrup
PACK SIZE : 200 ml
Stonar Syrup is prepared from hand-picked Indian Herbs like Tribulus terrestris, Boerhavia diffusa, Crataeva nurvala, Permelia perlata, Berberis lyceum, Plumbago zeylanica,Tinospora cordifolia. The Stonar Syrup is an Herbal Alkalizer & Renal Detoxifier. Known for efficacy, the Stonar Syrup is the best remedy to treat urinary tract infection.
1
What are the use of Stoner
Urinary tract infections
Burning micturition
Dysuria
As a Renal Detoxifier
In renal calculi along with Crush tablets.
1
What are the side effect of Stoner
There are no known side effects with this medicine.
However, it is best to use this medicine under medical supervision.
Store in a cool dry place, away from sunlight.
Keep out of reach and sight of children.
Seek your doctors advice for its usage during pregnancy.
This product can be safely used during lactation period and in children for a limited period of few weeks time.
Seek your doctors advice if you are diabetic. In diabetic patients, only if the blood sugar is under good control, then this medicine can be given.