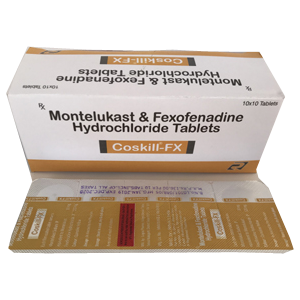 Coskill-FX
Promoted By : Rithviks India
Contains : Montelukast (10 mg) + Fexofenadine (120 mg)
PACK SIZE : 10 tablet ( 10 / strip )
Coskill-FX is popularly used for asthma, symptoms of allergic conditions, runny nose, sneezing, allergic rhinitis, hay fever, exercise-induced asthma and other breathing-related problems. It is a leukotriene receptor antagonist and an antihistamine.

The medicine acts against leukotriene and histamine respectively, natural substanced released by the body during such conditions causing problems like headache, fever, sore throat, runny nose and other common cold symptoms.

It is advisable that pregnant women and breastfeeding women must avoid this medication unless clearly mentioned by the doctor. It does have side effects like dizziness, fatigue, cough, headache, pus in urine, heartburn, skin rashes, difficulty in breathing and hypersensitivity reactions and a few others.

Therefore, it is important that you visit a doctor if there are prolonged issues regarding any of the issues. Since, it can cause drowsiness and sleepiness in the initial stages of the medication, it is important that you stay away from activities like driving or any such activities that requires a focussed mind.
1
What are the use of Coskill-FX Tablets
Below mentioned conditions can be treated with this medication:
Asthma
Allergic Rhinitis
Bronchospasm
Common Cold Symptoms
1
What are the side effects of Coskill-FX Tablets
Dry Mouth
Fatigue
Drowsiness
Headache
Cough
Nausea Or Vomiting
Blurred Vision